How to perform a SmartScan
Follow the steps below to execute a Job using Atheer Lens on a mobile device:
From the Atheer Lens App, tap the Lens button from the primary navigation menu found at the bottom of the app screen.




You'll see two options - Scan or Capture. Tap Scan.




When in scan mode, you can choose between QR code or Barcode scans.

NOTE: In future releases, OCR and Object scan modes will also be available.




When in the chosen scan mode, simply hover the device so that the code is in the center of the scanning guide. If the code has been set up in Atheer, it will be quickly recognized, and associated results presented.


Scan results are organized into Content that has been previously setup in Atheer (documents, files, videos, images, etc.), People (Atheer users that you can connect with via video or chat), and AiRForms (work instructions; step-by-step guides; procedures, etc.).
Simply click on the resource that is most useful.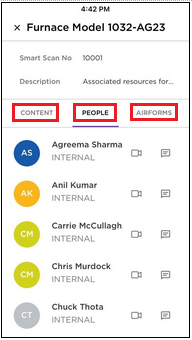 If you have any further questions, please feel free to reach out to our customer success team right here.


---